A little bit about me…
Brought up in the beautiful village of Grasmere in the heart of The Lake District, Cumbria, my daily journey to school took me past Grasmere, Rydal and Windermere Lake, that's one very special daily commute. I now live in Wetheral, another picturesque Cumbrian village.
I have three very wonderful children I'm bursting with pride about, well I say children all but one have flown the nest. I am definitely a country girl, happiest in my wellies down by the river with my two troublesome Terriers.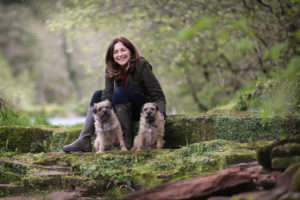 I love a good build project too, my last two homes I have been ultra involved in their construction and design, A lovely home is all about space, lines, lighting and how it makes you feel, wedding photography isn't so far removed.
I've always had an arty disposition, I even had a small calligraphy business in my early twenties doing wedding invitations and hotel stationary but my path into wedding photography began 15 years ago taking children's portraits, which almost instantly progressed into wedding photography.
Straight away I realised I wanted emotion in my wedding images so I have always followed the route towards documentary wedding photography, plus you may have gathered too, I have a distinct dislike for anything remotely cheesy.
I learnt my trade by carrying the bags of some amazingly experienced wedding photographers before second shooting and was finally rewarded by a couple of close friends being brave enough to allow me to shoot their weddings, they are still speaking to me! I now shoot 30-40 weddings every year. I am more than happy to travel to your wedding although most of my clients come to me, you all seem to live elsewhere and choose the Lake District, Scotland and Northern Counties to tie the knot, I cant disagree, it's a very special place.